¿What it is?
Last February VIVANESS 2018 was celebrated, an International Fair of Natural and Organic Personal Care that has already reached its eleventh edition. Held at the Exhibition Center Nuremberg (Germany), one of the most massive fairgrounds in the world that hosts national and international fairs, exhibitions and congresses. The fair began with 164 exhibitiors from 15 countries, and it has grown enough to reach more than 250 exhibitions from 30 countries in recent years, It is currently the leading international meeting point for the natural cosmetics field.
It is celebrated along with BIOFACH, the most important fair of organic food and among its objectives are to make contacts and learn about the natural products of the current cosmetics field. Also, there is room for debates on the advances in the dermocosmetic industry and presentation of products to professionals of specialized stores, pharmacies, perfumeries…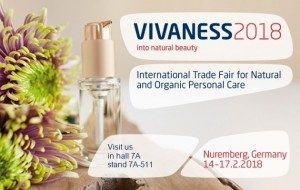 Atlantia, presented at the fair
This 2018 has been the year chosen by Atlantia to attend Vivaness 2018 for the first time as an exhibitor.
We have been present in the call showing some of our products as Bialoe, a nutritional supplement that fits perfectly in a growing segment such as the nutricosmetics. Bialoe is made from Aloe Vera 100% pure organic farming and is recognized both for its multiple benefits for the body and for being a product for beauty, which works from within to improve the appearance of your skin.
On our stand, we offered visitors a tasting product that was very well received. Many came to try it since the ingested Aloe is still unknown to many. Moreover, for those who knew it and had tried other brands, it was a surprise to see the high acceptance it had.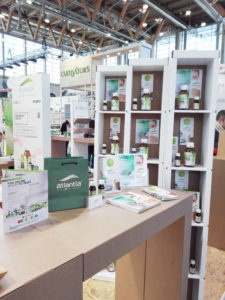 Aloe vera for everyone
Aloe vera is from the onion family and has a very characteristic smell and flavor, for some it is not very pleasant, although 100% compesated if we think about the multiple benefits it has for our organism. While authentic Aloe Vera juice was 99,7% pure, visitors recognized a smoother flavor thanks to the natural aroma of pineapple.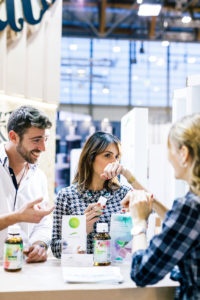 With our presence at the fair, we also wanted to convey the importance of this product in the medical field. The benefits of Aloe Vera for skin, its regenerative and soothing properties have made the Pure Aloe Vera Gel, and Superdefense recommended for years by medical specialists in breast cancer patients ungergoing radiotherapy. However, recently, an article has been published about a clinical trial carried out with Bialoe that has demonstrated the analgesic and anti-anflammatory action also for ingested Aloe vera.
VIVANESS 2018 has served us as a platform for presentation and introduction to the German market and European countries, which is why we are convinced that it will help us to continue fulfilling our commitment to offer the best Aloe Vera in the Canary Islands.