If you haven't prepared your skin for hot temperatures, we leave you here some tips you need to keep your skin looking healthy and glowing with Aloe Vera.
Aloe Vera is an ideal ingredient to be used during all year seasons, but it's true that during summer it's an essential ingredient. We use it for everything!
And, thanks to its many properties, Aloe Vera is a great indispensable to be with us during hot months.
Moisturizing, soothing, regenerating, repairing, and many more properties.
Here you have our tips for having an impeccable skin this summer:
1. Use Pure Aloe Vera and not in powdered form
Moisturize your face and body with pure Aloe Vera gel after showering.
Aloe Vera has a high content of vitamins, amino acids, minerals and nutrients, so we get a more hydrated and elastic skin if we apply aloe every day.
In addition, sun long exposure periods damage the skin even if we use sunscreen. So, a pure gel is perfect to lead to problems such as sunburn or irritated skin.
For an even more pleasant and soothing effect, we recommend leaving it in the fridge to get a more refreshing and anti-inflammatory sensation.
Atlantia Pure Aloe Vera Gel is a pure Aloe Vera juice extracted directly from the leaves of the organically grown Aloe plant, processed and cold stabilized to ensure optimal preservation of its active ingredients.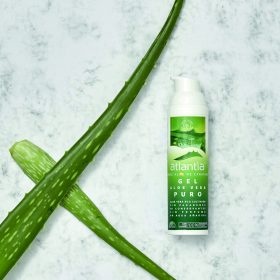 2. Apply after sun after sunbathing.
Using an Aloe Vera After sun after a beach or pool day, helps to relieve skin burning and redness caused by the sun.
Atlantia's After sun is a soothing milk with a mild refreshing formula with canary aloe. It nourishes, protects and regenerates the skin thanks to its active ingredient's mixture.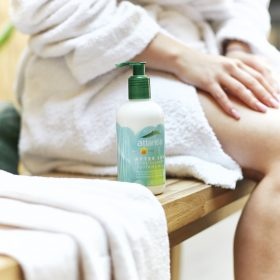 3. Moisturize facial skin with sunscreen every day.
It's not enough using sunscreen only when we sunbathe. Facial skin is more sensitive, so we must moisturize it every day using a sun protection face cream for daily use.
Atlantia's Hydradetox FP15 face cream helps to detoxify the skin from environmental pollution harmful effects, and also protects it from UVB and UVA radiation, which are skin photoaging main sources.
Its formula intensely moisturizes and repairs the skin thanks to canary aloe Vera, avocado oil, vitamin E and the antioxidant ox-bio protect.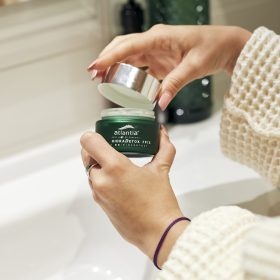 4. Drink drinkable Aloe Vera in the morning.
In summer we are subjected to sudden temperature changes due to air conditioners and strong outdoor heat. Drinking Aloe Vera in summer is a great option to strengthen our immune system that is affected by these changes.
Besides taking care of ourselves on the inside is taking care of ourselves on the outside, that's why we will look radiant with Aloe Vera.
Bialoe, Atlantia's drinkable Aloe Vera, is made with pure Aloe Vera juice extracted from the leaves of the organically grown plant. It contains 99.17% cold stabilized Aloe Vera juice. Thanks to the freshly cut leaves precise extraction and a delicate production process there is an optimal active ingredients properties and active ingredients preservation which are naturally present in the plant.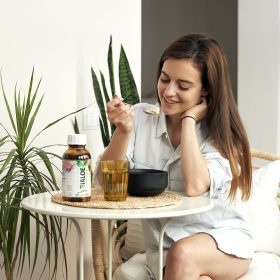 5. Use natural cleaners
Frequent showers, sea and pool baths can affect skin pH and dry it. Aloe Vera has a high level of vitamins, amino acids, minerals and nutrients, so using an Aloe Vera shower gel is great for your skin during the summer.
Aloe Vera shower gel formula nourishes, repairs and provides extra softness with moisturizing and regenerating action of tissues.