The gel is the blended pulp of the Aloe vera, which contains a high concentration of polysaccharides (acemannan), organic acids, amino acids and vitamins which are really good for you, but also contains aloin, which can have laxative action and it is therefore removed during the process of obtaining Aloe vera juice. Aloe vera juice is the most beneficial way to find Aloe vera in the market, it does not contain aloin, but it still preserves the rest of active ingredients.
Aloe vera concentrate is the dehydrated Aloe vera gel. The extract is produced from this powder and added water. Products made from concentrate usually contain less than 10% of Aloe vera and they obviously have very little of the original properties of the plant.
The reason for this is that the Aloe vera plant loses its original properties during the lyophilization process (process to obtain the Aloe vera powder).
Most of manufacturers use powder to save in transport and storage costs: it is more expensive to transport aloe vera cubes than dehydrated powder and add water at the end.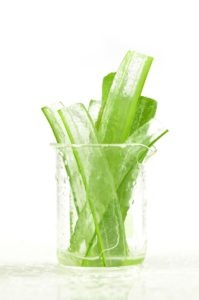 How these differences affect your skin
Aloe vera contains vitamins, minerals, amino acids, enzymes, various secondary plant compounds and also mono- and polysaccharides. The Aloverose is the most important component, a well-known sugar, which only happens to exist in the "Aloe barbadensis Miller" species and is very effective to maintain the adequate skin hydration.
The difference between a product made from pure aloe vera juice, with high levels of aloeverose, and one made from powder and added water might not be so visible on healthy skin, but on very sensitive, damaged or burned skin, the concentration of main active substances is really important.
Atlantia products are made from high quality pure Aloe vera, produced and manufactured in the Canary Islands, which is a great advantage over other brands based somewhere else. The company guarantees a minimum of 1.700 mg/l. of Aloverose, far above the market average.
The difference between a natural non-processed product and a processed one is basically the loss of original properties. Aloe vera is composed of unstable molecules, which leads to rapid deterioration. Therefore, the earlier it is cold stabilised and packaged, the better to preserve its active principles.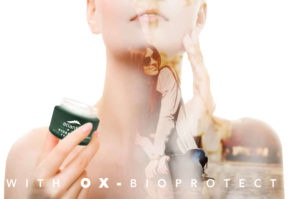 Atlantia, pure and perfect aloe vera juice
Atlantia has developed different product lines to improve and maintain your health and beauty, a true body-care. By using 100% pure Aloe vera, Atlantia creams preserve all the valuable active ingredients to show an even brighter and more radiant skin.
Atlantia covers a range of health (to boast your immune system, to decrease the side effects on the skin and mucosa caused by radiotherapy treatments, …), body, facial and personal hygiene products.