After the holidays, we suggest you get back to your everyday routine with Aloe. That way, you can prolong your skin's tan, beauty and health.
Most of us have been able to enjoy a few days of relaxation this summer, although some more than others. At the beach, in a small town or in a city… There have been plenty of relaxing moments that we all needed. Now it's time to move forward, with natural care by your side.
Prepare for your return to your everyday routine with aloe
You always need to look after your skin, especially after summer. Aloe vera is proven to have qualities that help it care for the skin's beauty and health. To help you restart your skincare routine after the holidays, the team here at Atlantia has outlined some of aloe's benefits.
Prolong your suntan with aloe
No matter how much or how little tan you've achieved during the holidays, it barely lasts two or three showers when you get home. You're never able to have that great skin colour last until Christmas, but it is possible to extend it a little. To do so, you need to be consistent with your skincare routine and opt for formulas that nourish, protect and regenerate the skin.
To ensure your return to your everyday routine with Aloe allows you to keep your skin tanned for longer, bolster your skin's hydration with the help of our products:
After sun

: nourishes, protects and regenerates the skin thanks to the combination of its active ingredients.

Moisturising body milk with aloe vera

: perfect for your daily skincare routine, leaving skin soft and hydrated.

Super-defence cream

: a non-oily, fast-absorbing, moisturising, emollient, and repairing cream for all skin types.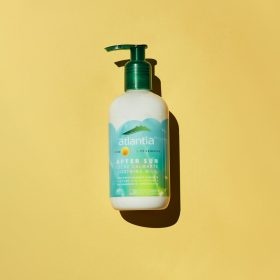 Prevent iritation
A mask has become an essential feature in our daily lives and, unfortunately, it seems that it's here to stay for an extended period of time. With aloe vera you'll help to protect the skin against chafing and irritation. In this regard, we recommend the following Atlantia products:
Pure aloe vera gel

: it has a calming, anti-inflammatory effect that works almost immediately and it's extremely pleasant to use.

Hydradetox SPF15 aloe face cream

: a cream that helps the skin to detox from the harmful effects of environmental pollution while also protecting it against UVB and UVA rays.

Regenerage aloe vera anti-ageing cream

: a regenerating cream with Aloe that improves the appearance of wrinkles and expression lines, and also prevents them from appearing.
Strengthen the immune sistem
Before we know it, autumn will be here, bringing with it the first coughs and colds. It's not a bad idea to take care of yourself in advance by watching your diet and lifestyle habits. The Bialoe juice drink by Atlantia helps to strengthen the immune system and is a fantastic choice when you're looking to get back to your everyday routine with Aloe.