We've finally eradicated the big myth saying that "man don't use creams", but there is still a lot to do and to learn.
We can't forget that man's skin is distinguished for being thicker than women epidermis, producing more grease and being more elastic and firm.
We also have to keep in mind the daily shaving, during which the superficial layer of the epidermis is constantly damaged leaving the skin more dehydrated and vulnerable.
For all those reasons, from Atlantia, we have an exclusive range of products for men's facial care elaborated with pure Aloe vera and specially created to meet their needs.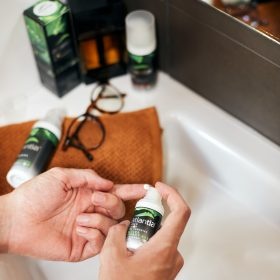 We tell you the benefits of the three natural cosmetics products with aloe vera for men
As we previously said, the daily shaving is a constant stress that damages the most superficial epidermis layer, causing skin dehydration and a lack of protection against external agents such as wind, cold, sun, etc. Therefore, men has different facial care needs, requiring less greasy products and that help regenerating the hydropidic layer after shaving. For that reason we've created the ATLANTIA MEN ULTRA COMFORT AFTERSHAVE 50ML, with an Aloe vera based that moisturise and repairs.
This moisturising cream for men with an aloe vera base prevents skin's ageing and its consequences (tired and fatigued face), providing the skin with nutrients and moisturising active ingredients that stimulate the cell's regenerative capacity, anti free radicals and antioxidant.
Moreover, it has a multi mineral complex rich in minerals (aluminium, zinc, magnesium, manganese, etc.) and lysine, an essential amino acid for the repair and production of collagen, bringing out a younger looking skin.
We've created the anti under-eye bags cream for men. Active Energy Eyes from Atlantia Men made of aloe vera, a multi-mineral complex and Eyeliss® that helps to prevent and reduce eye bags, preventing and attenuating wrinkles and expression lines while hydrating, comforting and smoothing the skin.
The eye contour area is very delicate as it's 4-5 times more thin that the rest of the face's skin and, in consequence, it's much more fragile against external aggressions. It also has less collagen and elastin fibres, so it's more prone to skin flaccidity. Moreover, being an area with fewer sebaceous glands, it's more prone to dryness and wrinkles apparition.
What can we do to keep the skin young longer?