But, did you know that the opposite happens to some people? Tiredness, lack of energy and vitality, and even dizziness, headaches, and forgetfulness.
Although it seems incredible, these two states of mind coexist with each other, and that's why we have days of high happiness and others with much less during the spring.
We can see it, for example, in the change of temperature and climate, we become much more susceptible to changes, so when it rains one day we can feel really sad, and when the sun rises, after the long winter, we can feel euphoric and ready to take on the world.
Regardless of how you're feeling today, don't worry, it will pass, and maybe tomorrow you will feel better.
Can aloe vera help you to boost your mood?
But, if your mood remains low, in addition to consulting a professional, you can try supplementing your diet with aloe vera. It is true that there is still no scientific studies that ensures that the consumption of aloe vera can improve your mood, but many people have verified it for themselves. Be skeptical and see it for yourself!
That is why we encourage you to try it, since, in addition to helping your body to function more fluidly, you may feel better emotionally.
We know that Aloe vera is very rich in a wide variety of nutrients, vitamins (A, from group B, C, D, E), minerals and trace elements (iron, calcium, chromium, phosphorus, magnesium, potassium, selenium, zinc, germanium …), amino acids (7 of the essential 8, including tryptophan, and many non-essential), enzymes, fatty acids …
All those elements can help you strengthen the immune system, regenerate mucous membranes, relieve pain, detox, prevent ulcers and inflammations. After all, a lot of properties that can explain why some, when they take aloe, feel much better emotionally, with more energy, vitality and more joy.
You can try it by taking 20 ml of Bialoe, 100% pure aloe vera juice to drink, mixed with water or orange juice, on an empty stomach.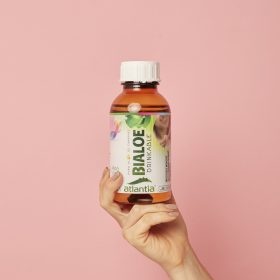 Do you feel like trying it out?