Its hydrating and repairing action are two indispensable qualities in the battle against ageing. And also its ability to allow the skin to regenerate and heal better, because this helps to improve marks on the dermis.
In any case, the intense hydrating action of Aloe vera takes place in the deep layers of the dermis. Therefore, it's perfect to combat wrinkles. Nevertheless, on the outermost layer of the skin, on the surface, the pure Aloe gel can leave a feeling of dryness. Therefore, it's a good idea to combine it with other key anti-ageing ingredients, allowing for greater emollient action.
Let's talk about wrinkles and aloe vera
Wrinkles can be caused by multiple factors. Genetics is important. But so is exposure to the sun, and external agents such as pollution. And lifestyle factors, such as smoking.
But, of course, in addition to the above, the key factor is ageing. As the years go by, the skin looks drier and saggier. This is due to a gradual loss of hydration and reduced collagen and elastin production. These two proteins are the lifeblood of the skin. As we age, they are produced in smaller quantities.
A wrinkle cream based on pure, organic Aloe Vera that specifically targets these aggressions, such as in the case of Regenerage by Atlantia, is a very effective option. It cares for and protects facial skin against the multiple aggressions that speed up ageing (stress, pollution, sun, etc.). In addition, it helps to improve wrinkles, fills in fine lines, and evens out skin tone thanks to its unique composition.
These qualities are due not only to the well-known properties of the 100% pure, organic Aloe vera. Regenerage also contains alpha hydroxy acids such as glycolic acid. This is a highly exfoliating and regenerating active ingredient with a marked anti-ageing effect. Its composition also includes avocado oil, a natural source of Vitamin E – an antioxidant that nourishes and revitalises the skin. The formula is completed with shea butter, which moisturises, softens and protects cellular tissues due to its high Vitamin F content. It also provides minerals and essential fatty acids.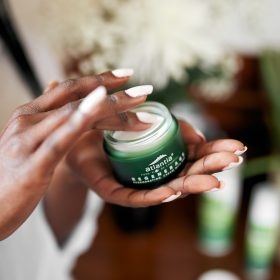 Shall we combat wrinkles with aloe vera?
Click here to discover this and many other formulas developed with the purest Aloe from the Canary Islands and other super ingredients.