Spring is here! The season when the sun shines more, the days grow longer and the flowers start to bloom. Of course, summer is right around the corner and that's when the skin suffers the most from dryness, burns, sunspots, and more. To ensure that doesn't happen, we're going to share some tips on how to prepare your skin for summer and how to solve this problem once and for all.
Start suncare for your skin in spring
You'll surely have heard many people say spring is the best time to start preparing your skin for summer. But do you know why? It's because spring falls right after winter and, for several months, your skin has been kept hidden away from the sun, a sun that was also much weaker.
As a result, you should start caring for your delicate skin in spring to ensure the summer sun and high temperatures don't damage it. To do so, it's important to use products that protect it against UV rays and offer deep hydration.
If you want more tips on skincare in spring, we recommend reading our article: Spring with Aloe Vera!
Hydration: The key to preparing your skin for summer
Summer is a tough time for skin as prolonged exposure to the sun and heat can dry it out, leave it rough, cause sunburns, and, in the long term, cause wrinkles. Everything you want to avoid.
Therefore, correctly hydrating the skin is the best way to prepare it for summer and keep it healthy during these critical months. In addition, hydrated, soft skin definitely looks much more attractive than dry, rough skin.
Superdefense cream by Atlantia: the best solution for hydrating your skin
At Atlantia Aloe, we create high-quality products that care for your skin. Our Superdefense cream is the best solution for deeply hydrating your skin and preparing it for summer thanks to its triple hydrating, emollient and restorative effect.
This powerful hydrating cream has a special formula containing pure, organic aloe vera, avocado oil and shea butter. These ingredients work together to provide intense, lasting hydration, while also reducing the skin's signs of ageing.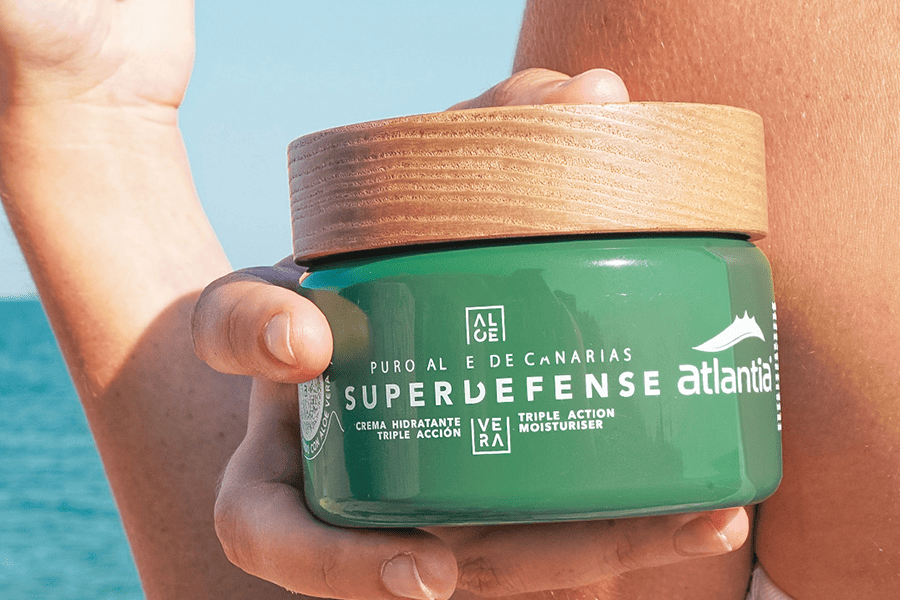 100% pure, organic aloe vera made in the Canaries
Why is the origin of Aloe Vera so important? It turns out that the weather conditions in the Canary Islands, their volcanic soil and other aspects are perfect for growing this plant. Furthermore, they enhance its healing benefits and, as a result, the juice obtained is of a greater quality and purity.
In addition, as these are organically farmed crops, no chemical products that are harmful to the environment or human health are used to produce them.
For this reason, when selecting any of our beauty, health or hygiene products, you're opting for a natural, sustainable, premium-quality therapeutic choice. It's worth noting that they're free from parabens, dyes and synthetic fragrances, making them perfect for sensitive skin.
6 tips to start caring for your skin in spring
In addition to the Superdefense cream by Atlantia, we'd also like to share some tips for treating and pampering your skin in spring and correctly preparing it for summer. Take note and plan a daily routine:
Hydrate your skin, inside and out

: In addition to hydrating your skin externally with body lotions, you need to hydrate it on the inside. So make sure you drink plenty of water.

Follow a healthy diet

: That's right; food is a relevant factor when it comes to correctly hydrating your skin as foods like fruit and vegetables provide you with nutrients and water, keeping you hydrated internally.

Exfoliate your skin

: Regularly use a gentle exfoliant to remove dead cells from the skin and ensure it always looks regenerated and soft. Additionally, this will help it absorb your face cream.

Use sunscreen

: Yes, it's essential that you protect your skin against the sun's UV rays in spring as this is when the sun starts to grow stronger. Use a sunscreen with a high factor (50 if possible) and apply before going outside. Reapply if you're going to be outdoors for long periods of time.

Apply after sun with aloe vera after sun exposure

: It's important to use specific products after a long day spent in the sun. Furthermore, aloe vera has multiple properties that make it

the best after sun

.

Avoid hot showers and baths

: Hot water can dry the skin out, so try to shower or bathe with warm or cold water.

Wear comfortable, breathable clothing

: It's better to wear natural fabrics, like cotton clothing or breathable materials that allow your skin to breathe too and prevent an accumulation of sweat.
By now you'll have realised how important it is to keep your skin hydrated before and during the summer to ensure it looks healthy and radiant. Now you have the most effective solution: the triple-action Superdefense cream is perfect for deeply hydrating the skin and preparing it for summer.
Additionally, by following the tips we've given, you can guarantee your skin will be in the best condition to face the sun, heat and everything you set yourself! What are you waiting for? Start pampering your face and body today and watch as your skin thanks you for it.