There are many reasons why Christmas can mess with your digestion. First of all, the meals are often heavy, which causes excessive bloating. Furthermore, when you eat high-fat foods, as is often the case, it causes a delay in gastric emptying. And let's not forget that drinking more coffee or alcohol than usual has an irritating effect. These are all elements that cause stomach discomfort or pain, heartburn and reflux.
How can aloe aid digestion?
Aloe vera is an effective antioxidant that improves tissue regeneration, with many other well-known qualities. It contains around 20 amino acids that are essential for protein retention, of which eight are vital for the body to function properly. Furthermore, this plant also contains fatty acids that help to reduce blood fats and relieve indigestion. Drinking Aloe vera juice helps to cleanse the digestive tract naturally. It contains soothing and regulating substances that the body needs to achieve normal, bacteria-free intestinal flora.
Its efficacy goes beyond aiding digestion with Aloe. Clinical trials and tests at major hospitals, in which Atlantia has participated with Bialoe Aloe vera drink, have demonstrated the efficacy of administering its juice for inflammation of the oesophagus (acute oesophagitis), one of the main side effects of radiotherapy and radiochemotherapy in cancer patients. It also improves inflammation of the mouth and throat (mucositis), another consequence of these aggressive treatments.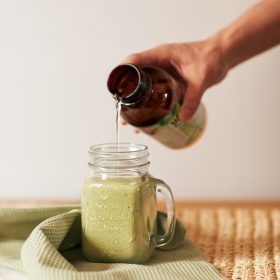 How to take bialoe
Bialoe is the drink by Atlantia that reduces stomach acidity, helps to treat stomach and intestinal ulcers, improves an irritable bowel and aids digestion with Aloe, as it contains pure juice from the leaves of this plant.
It's very easy to use: we recommend taking 20ml every morning before breakfast, mixed with a glass of water or juice. Once opened, store in the fridge for optimal conservation.