This new vision of the environment is necessary and healthy. As maintaining a plenty and healthy life is the most demanded purpose each December 31th in the 21th century. Supermarkets, grocery stores or markets area already reserving spaces for the items labeled as "ecologic".
This new vision of the environment is necessary and healthy. However, for a product to be considered ecologic must be produced in compliance with a series of techniques that exclude the chemical synthetized products employment (as pesticides or fertilizers); preserving the environment and maintaining the natural properties of the gender.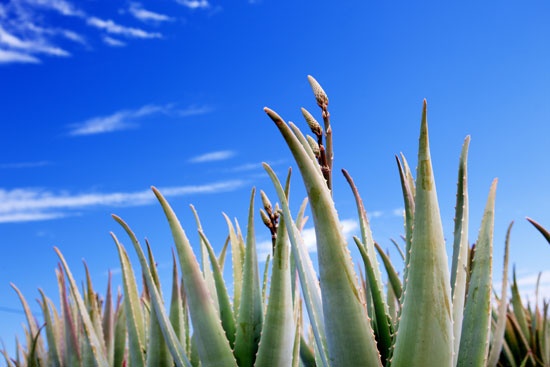 We love "Eco fashion"!
The boom of the "eco products" is a reality. In Spain the greatest part of the national ecological surface corresponds to the olive oil, cereals and legumes, followed by some dry fruits and grapevine.
Also, it is essential to make some room for the ecologic cultivation of Aloe Vera in that list. Especially in the Canary Islands, which gather the unique conditions needed for an authentic quality plant. That's why the Archipelago has turned into the main European region for the Aloe vera cultivation and production.
We sell eco cultivated aloe vera
At Atlantia we fervently bet on the ecologic agriculture as an asset for the ground fertility and the subsequent nutritive improvement, both of our organisms and the skin. So we elaborate all our products using as raw material the Aloe vera that comes from the ecologic cultivation from the Canary Islands.
Atlantia, eco cultivated Aloe vera from the Canary Islands
This way, in the manufacturing of our products we use pure Aloe vera juice, directly extracted of the leaves of the plant (not the ones that comes from concentrated products). This ensures that the properties of the plant are not altered in the manufacturing process, giving a final product that is competitive and ideal for our care in the inside and the outside.
Get into the "ecologic" fashion and buy Aloe vera products produced through the real ecologic cultivation. In our Research and Development Department in Atlantia we continuously work to improve and create new products, offering that way the most natural and professional to all our customers.