Thanks to modern technologies and new advances, Atlantia is constantly innovating to find the best way to evolve in a world that is becoming more aware of the environmental impact of the production of petroleum products.
We are non-conformist and tireless in our pursuit of new methods to stop climate change, while maintaining our purpose to offer the best service to all our customers who trust in the purity and quality of Atlantia products.
Did you know that we have created new, more sustainable packaging? The aim is to reduce plastic production and make our packaging recyclable and less polluting, without compromising its strength and durability. It also comes in a new format that has much more benefits for you. Find out why!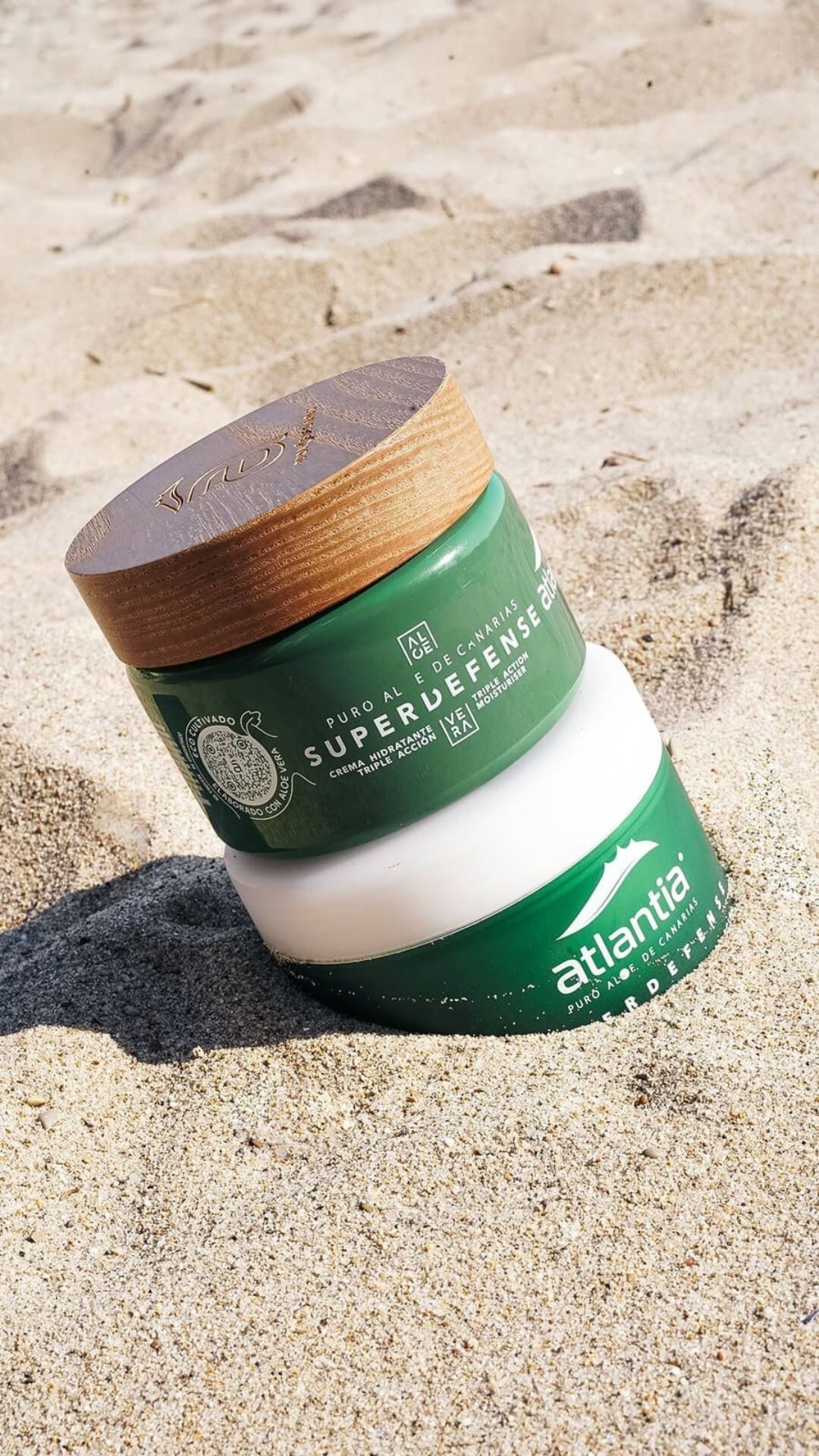 A long history of improvements and great environmental and sustainable advances. Discover our cosmetics!
Head over to our website to discover our wide variety of cosmetics with our most precious star ingredient: Pure Aloe Vera. Our organic Aloe Vera comes from the Canary Islands, where the climate and soil have the ideal qualities to reproduce this plant and enhance its medicinal properties, offering amazing results for all our products.
Discover some of our star products that are already part of the work and effort we are putting into achieving a healthier world. Their packaging is made of 100% recycled and recyclable material, and the boxes are made of recycled cardboard from sugar cane bagasse, making them much more environmentally friendly and sustainable: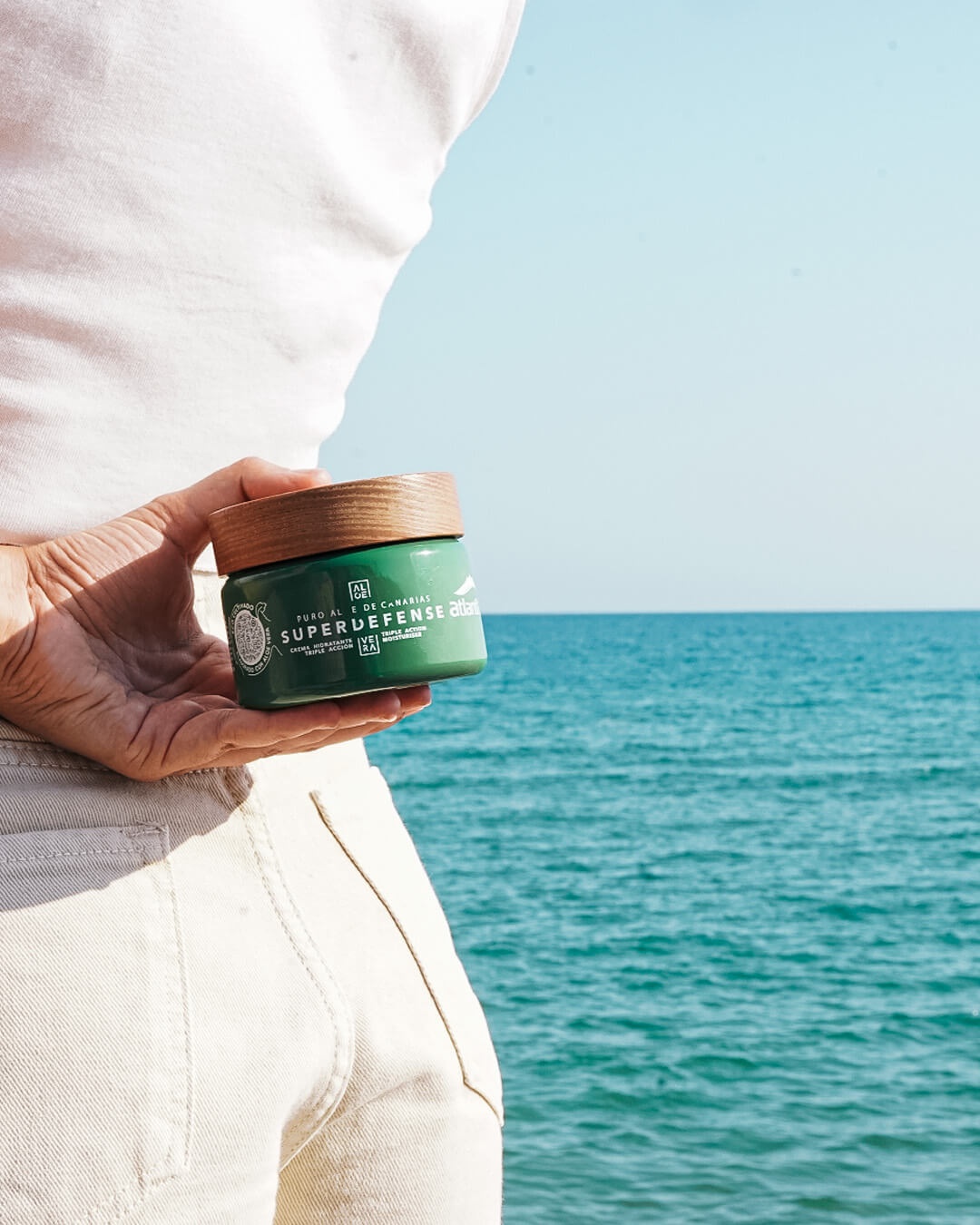 Superdefense with pure Aloe from the Canary Islands: same cream, more benefits
Today, we're keeping up our commitment to a more sustainable and environmentally friendly industry model, which is pushing us to continue doing our bit for the planet. In line with this, we have improved the packaging of one of our top-selling and highest-rated creams by our customers.
As such, we're introducing the new format of the Superdefense triple action cream for face and body. It is a jar made of 100% recycled and fully recyclable plastic with a new wooden lid. Thanks to this, we have cut down on new plastic production, reducing greenhouse gas emissions. We have also eliminated the packaging box to reduce waste.
The Superdefense cream with aloe vera is a triple-action face and body cream. Non-greasy and fast absorbing. Ideal for very dry and devitalised skin, as it deeply regenerates, soothes, and hydrates. It also soothes and improves the condition of skin undergoing radiotherapy treatments. Acts as a protective film, enabling patients to continue with radiotherapy treatments with no or minimal interruptions, improving side effects, such as radiation dermatitis.
And as if that weren't enough, the packaging we've developed holds a greater amount, giving you 250 ml of product. Each jar you buy will now last much longer, reducing the number of containers used.
Now, by buying your usual cream, you're not only taking advantage of the same properties and benefits with a much larger size, but you're opting for a significant change in the world where we live.
Join the sustainable movement! Get it here and enjoy a free 75 ml Pure Aloe Vera Gel.