What is it and why is it benficial?
Rosehip, s a shrub native to Eastern Europe that has multiple health benefits.
Although rose hip it is usually used to reduce and regenerate skin problems such as scars or stretch marks, it can also be consumed as an infusion or oral route.
Many people know rose hip as the seed of eternal youth and it attracts attention with its pink flowers and reddish fruits with a slightly oval shape. Rather than its appearance, it is a widely used ingredient in natural cosmetic because of its condition as an essential oil rich in unsaturated fatty acids.
Rose hip on the skin
As we have commented throughout this post, rosehip has multiple uses, but the most common is topical use. Due to its positive properties, it repairs damaged skin thanks to the revitalizing action of skin cells, which produce collagen, elastin and hyaluronic acid.
Its multiple vitamins (A, C, B1, B2 and F) combine with oleic and linoleic fatty acids, beta-carotene, tannins and antioxidant flavonoids, making it a highly beneficial shrub.
It also speeds up the healing of scars or, at least, reduces their appearance and prevents unpleasant and unsightly stretch marks.
Other topical benefits of rose hip are to slow down aging, improve pigmentation or revitalize the skin, providing a healthier appearance.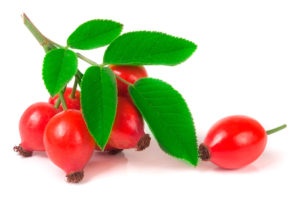 Regestimul, product 10
We offer an excellent product that acts as a regenerator of skin cells. Regestimul, our vegetable oil combines in its composition the rosehip and aloe vera juice, which results in naturally nourished and hydrated skin.
To improving and healing skin wounds, whether from burns or dreaded stretch marks, this product helps to improve the tone and texture of the skin, be it on the face or body.
Regestimul is the best choice for all those who want to take care of themselves without using chemicals.
In addition, in some of our Atlantia products we use airless packaging, which helps to maintain all the properties of aloe and its active principles.