The weather's instability typical from Spring, a mixed of hot days and temperature drops, breezes and rains, cause changes in the fatty acids of our epidermis. Our skin is the first on detecting those changes, that's why we need to keep it perfectly hydrated and protected against the external agents. Otherwise, it will get stressed and will show it in form of dryness, irritations and rashes.
These changes in the climate also effect specially the people who suffer from skill illness like atopic dermatitis, psoriasis, eczemas, acne and rosacea. That's why, specially in those cases, it's important that we apply a specific skin care during Spring.
How do we need to take care of our skin in spring?
During this time of the year, we need to put special attention to the facial cleaning, both day and night. It's important to make a daily cleaning and exfoliate the skin one or twice per week. This will help to maintain the skin free of impurities, renovating the epidermis and multiplying the effect of the moisturising cream.
From Atlantia, we suggest our Aloe Vera Facial Mousse as it cleans the skin, giving back its shine and freshness without drying it, without soap nor perfumes, making it suitable for all skin types.It also brings minerals, amino acids, and vitamins with moisturising action.
We can't forget moisturising the skin in depth, specially dry skins. For this season, we recommend using light and moisturising creams that improves hydration. For the most sensitives and reactives skins it's better to search for soothing creams that specifically combats the irritations and the burning on the skin.
In that case, Superdefence, for face and body, calms, nurtures and reinforces the natural defense systems of the skin. Enriched with shea butter and avocado oil, the vitamin E has an antioxidant action. Ideal for very dry and devitalised skin.
We believe it's also the perfect time to add an invigorating serum to our daily routine, which will protect us against external aggressions, very important as in spring we tend to spend more time outside.
The eye contour is the part of our body that starts to show signs of ageing earlier as the skin there is much more thin and delicate. It's really important to take special care of that area while approaching summer to prevent the apparition of wrinkles that become more visible due to the UVA rays effect as well as the facial expressions result of the sun discomfort in the eyes.
In Atlantia, we suggest using Eye perfect,the eye contour cream with aloe vera. It helps prevent wrinkles and reduce eye bags, improving skin's firmness, elasticity and moisturising.
Regarding creams with ultraviolet protection, we don't only need to think about them in summer, when it's stronger, but also right now in order to start preparing the skin for the sun exposure.
During this first contact with the sun, in terraces, doing sport or during spring walks, we tent to think that the sun doesn't hurt, but it's common that our skin suffers burns that the skin will remember, as we already know, it has me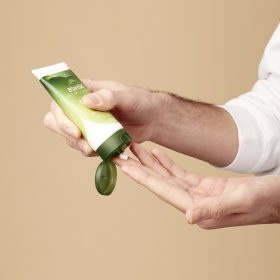 mory. Hydradetox FP15it's an aloe vera facial cream with protection factor against UVB and UVA radiation. It hydrates and repairs the skin intensely, at the same time that detoxifies it from the harmful effects of environmental pollution and improves skin brightness.
We neither want to forget about our hands that, even if we protected them during the coldest months, they also need to recover after winter. So let's pumper them to get a smoother and and softer skin with the Handcream with aloe vera, our hydrating cream for dry hands, damaged by external agents like the cold, wind and the contact with chemical products.
But, as we don't only want to take care of the exterior but also from the interior, it's important to eat healthy, as it will reflect in our skin, and do any kind of physical activity that makes you feel good to help oxygenate your body.
The sun releases free radicals, which increase the ageing sings due to the collagen fragmentation in the skin. Taking antioxidants helps preparing the skin for the summer and strengthen it against its aggressions.
Following a diet rich in vitamin E and C is really recommended, so seasonal fruits are our big ally, as they bring us many vitamins for our body.
And if drinking water is essential all year long, it specially is during spring and summer. Hydrating our skin from the inside is key, not only for our skin but also for our body. It detoxifies the liver, hydrates the body and helps lowering our cholesterol levels.
We also want to give you an extra help with Bialoe, our aloe vera juice to drink, extracted from the leaves of the organically grown plant. It has multiple properties, and it's perfect for strengthening the immune system and regenerating the bacterial flora.