Just as them, a large number of people (foreigners and nationals) choose the Canary Islands to break out of the routine and the reasons therefore are for every taste: kilometres of snow-white beaches, clear blue sky, plenty of outdoor activities, a relaxed lifestyle and so on.
As the promotional video of the Canary Islands goes: "Here you get the good things about summer all year around".The cheerful and open nature of the Canary islanders is credited to the climate of the Islands: living with an average temperature of 24ºC, not too cold in winter and not too hot in summer, is a real luxury.
It has been proved that the weather has direct impact on our emotions: feeling the warm sun on your skin, breathing fresh air, walking barefoot on the sand or gazing at the sky full of stars is a source of strength and regeneration.
But even so, the benefits of the Canary Islands climate go beyond that… It is also the reason for having the best quality Aloe vera in the world!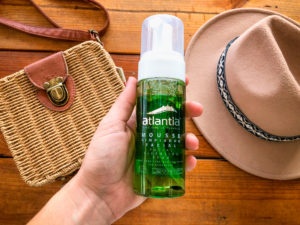 Aloe vera, privilege of the canary islands
Aloe vera requires plenty of sunlight and a warm, dry and windy environment. The southern part of the Canary Islands meets perfectly all these conditions: long hours of sunshine throughout the year, stable temperatures, very little rainfall and the constant trade winds. This exceptional climate, along with the volcanic soil of the islands, very porous and with lots of minerals, makes the archipelago one of the best sites for growing Aloe vera. In fact, scientific studies have highlighted that aloe grown in the Canary Islands has a higher concentration of active components than the one grown in other regions.
The Aloe vera from Atlantia is 100% organic, not transgenic and cultivated without synthetic fertilizers, pesticides and fungicides.
And a proof of all these fantastic things about the Canary Islands is that Ratolina, one of the most renowned beauty influencers has revealed her favourite spots of the Canary Islands… and the products she uses to take care of her skin!
So, this summer don´t forget to pack Atlantia in your luggage. An incredible health & well-being cocktail to provide your skin with vitality and all the essence of the Canary Islands.
Source: RTVC, Turismo de Canarias.