Our deep sorrow is to associate the end of the summer with an interruption from the wellness and a farewell to everything we love. Exactly, the feared return to reality. But, aren't holidays also real?
If we go further from these pessimistic views, the return from holidays is the perfect chance to introduce some changes.
In Atlantia, we want to help you ease the post-vacation syndrome thanks to our products with Aloe vera so, little by little, following a routine gets nearly as pleasant as being on holidays.
Tips with aloe vera to return the routine after the holidays
Positive attitude
Write down in your diary, phone or whatever it is, the things that make you happy avoiding the word "holidays".
Write down simple things of your daily life like taking time to have breakfast, a cold shower, take a walk with your partner or friends, buying fresh flowers… After, save those happy moments during the week and be thankful to be able to do it when you are enjoying the moment.
Get more active and do exercise
We know it's not easy to get back to exercise after the holidays and it can make us fall into the "I'll start on Monday" trap. The more you postpone the working out alarm, the more difficult it gets to start and the more discouraged we get for not being able to do what we set to ourselves to do.
For that reason, put on your trainers and start now, easy, but today. In addition, it's proven that practising a sport makes us happy.
There are studies showing that doing exercise regularly produces the release of endorphins (neurotransmitters that grow during pleasant moments and that are the physical carriers of pleasure, euphory, happiness and pain relief). That's why, after doing exercise we feel better, more cheerful and with more energy.
Our Altantia tip is that during the first weeks of working out, at the end of the practise, you reward yourself with a self-massage with Aloe Vera Relax Gel with cold and heat effect. You'll feel renovated in just a few minutes and you'll avoid muscular tensions from the first days of training.
Follow a healthy and balanced diet
The diet during holidays usually is much more abundant and succulent, as our social life increases and it gets almost impossible to control what we eat.
But don't worry, a positive attitude and an active life will easily bring you to eat healthy and rescue the good diet habits, one thing comes after the other almost without realizing it.
From Atlantia, we recommend that you prepare yourself for the come back complementing your diet with Bialoe Bebible, made from pure Aloe Vera juice extracted from the leaves of the organically grown plant.
Furthermore, you can find loads of delicious healthy recipes with aloe vera that will help clean your intestines, eliminate toxins and reduce liquid retention, as well as prevent bloating and constipation.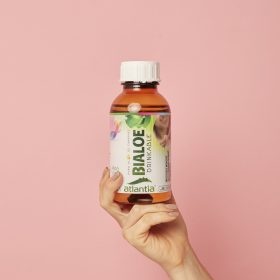 Take care of your skin with aloe vera – Take up some beauty routines
If you have spent your holidays on the beach under the sun, it's normal to feel some imperfection on the skin. We can feel our face less radiant as the tan fades away.
This could be due to the harmful effects of the sun that can cause sunburns and spots, as well as the effects of the sea salt, the chlorine, humidity…
That's why from Atlantia, we recommend resuming a regenerating and moisturizing facial and corporal beauty routine, in order to get the skin's glow and the vitality back after the holidays.
Our favourites after the summer are:
Hygiene and moisturizing facial routine care with

Pack Perfect Skin

with Aloe vera.
REGENERAGE: night cream based on pure Aloe vera for dry and very dry skins. Helps to improve wrinkles and expression marks. Contains alpha hydroxy acids with a marked exfoliating and regenerating effect.

EYE PERFECT

:cream based on organically grown Aloe vera for the eye contour.

Reduces eye bags, and improves skin firmness, elasticity and moisturisation. Softens wrinkles and expression lines. Absorbed quickly.

HYDRADETOX

: Facial cream with Aloe vera that helps detoxify the skin from the harmful effects of environmental pollution while protecting it from UVB and UVA radiation.
FACIAL CLEANSING: Enriched facial cleansing foam with pure Aloe vera. Does not contain soap, but a cleansing soft base that cleanses the skin of impurities. Suitable for all skin types.

PURE ALOE VERA GEL

: Apply it only before the moisturizing cream like a serum and anytime your skin needs it. The Atlantia's pure gel

contains a lot of benefits for our skin:
– Helps with cell regeneration, delaying the effects of ageing.
– Repairs damaged skin, helping it to heal.
– Helps to combat acne and cleanse the skin.
– Soothes burns, irritation, and insect stings.
– Adjunct treatment for radiation dermatitis.
Superdefense cream with Aloe vera has a triple action for the daily face and body skin care. Contains pure aloe vera, which strengthens the skin's natural defence systems and is highly regenerating, soothing, and antibacterial; shea butter, with emollient and hydrating properties, deeply nourishes and protects the skin. It also contains avocado oil,an effective antioxidant rich in nourishing fatty acids and vitamin E, which protects the skin from damage caused by free radicals.
Be constant and take it easy
There are plenty of ways that will ease the return to the routine, but every person is different and it doesn't all work the same for everyone. For that reason, the best tip we can give is to listen to your body and find moments for yourself, to take care of yourself.
With this last tip, not only will you face the tasks more motivated, but you'll also feel connected to what you really need.
Keep it up, a very inspiring September lies ahead.