Anticipate the cold
Now, more than ever, we can't let our guards down or be overconfident thinking that our skin can endure anything, because it's not like that. We have all been told "Be careful, because the skin has memory" and it couldn't be more true, even if we rarely listen. Therefore, a lack of care during winter can catch you up later.
Nevertheless, when the cold weather arrives, most of us get lazy and don't take that extra time to take care of our skin as it means depriving ourselves from those few more minutes in the confort of the bed while we keep hitting the snooze button every five minutes. Which ends in a quick shower, getting dressed and having breakfast in a rush as we are already late.
But, trust us, that little effort is totally worth it. For our skin and also for us, so we can start the day without stress, which is, by the way, another factor that effects our skin.
So let's talk less and let's go for it.
Refresh and repair your skin
Autumn and winter weather conditions not only force us to change our wardrobe, but also to adapt our skin care to meet all its needs during the coldest seasons.
The face is the most exposed to external aggressions, as, contrary to the rest of the body that gets covered with winter clothes, the face is always uncovered.
So it becomes even more necessary, and we must avoid that our dermis looks dull and dehydrated. It requires a previous preparation to face the rest of the day, as it will be exposed to many factors such as temperatures changes, wind, cold or an overuse of heating, between many other skin enemies that will dry out our skin, contributing to irritation, the peeling of the skin, redness appearance and the feeling of tightness.
We are going to start with the basics, the number one routine to follow in order to keep a healthy skin all year around: a good facial cleansing.
It doesn't matter what you do later or the products you apply if you don't have a clean base, free from impurities, to work on top of. It's important to get used to do it two times per day: in the morning, to eliminate the excess of grease produced during the night; and before going to bed, in order to clean all the dirt accumulated during the day.
After that step, we should focus on a constant and appropriate moisturising, using products formulated with the right ingredients, as natural as possible and with beneficial nutrients for each skin type.
And we mustn't forget that in winter we also suffer the effects of the UV radiation and that the skin is more sensible than during summer. That's why, on top of a good moisturising, the use of sun protection is key.
Finally, we want to remind you of the importance of taking care of the inside too, as it will be reflected on the exterior. Drinking between one and two litres of water per day and increasing the consumption of vitamin C and antioxidants will also help to preserve and extend the benefits of the products used to take care of the skin.
As an extra help, specially during the coldest month, in Atlantia we have Bialoe, a drinkable organic Aloe vera juice, with multiple properties, suited to boost the inmune system and stimulate the bacterial flora.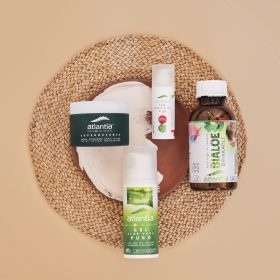 Our favourites
From Atlantia, we suggest you some options that will help you face the drop of temperatures, without your skin loosing hydration and looking radiant during the following months:
Then don't say we didn't warn you…
If you were already aware of the importance to strengthen the skin care during the cold season and you already had a facial care adapted to it, that's perfect! You can also improve it with our products and tell us later how has it gone.
But if you are from the "I don't have time club", we suggest you to give it a try and see the results. Your skin will thank you. Dedicate a moment just for you, you'll never regret taking care of yourself.