We know that its qualities are very beneficial for the health and beauty of the skin. The secret lies in aloe's natural composition, which makes it an increasingly popular ingredient in cosmetics and pharmacology
We use pure Aloe vera juice to formulate Atlantia products, extracted directly from the plant's fleshy leaves. We do this with the utmost control in the growing, harvesting, treatment and production processes, as well as benefiting from the perfect climate of the Canaries. But none of this would be possible without the exceptional composition of Aloe itself.
Acemannan: the star component of aloe vera
Also known as aloverasa, acemannan is the main active ingredient in the composition of Aloe vera. This compound has a long list of benefits for the body: it promotes cell respiration and thus activates the metabolism; it regulates the intestine and regenerates the intestinal flora, which optimises digestion; it increases cell activity, thus strengthening the immune system, and it also has an anti-inflammatory effect.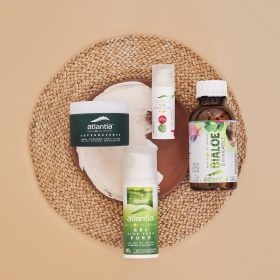 Other active ingredients with great properties
Although acemannan is the star active ingredient, we can't forget the others found in the composition of Aloe vera, for example, different enzymes that provide a wide variety of properties,from antioxidants that protect against free radicals (catalases) to those that break down carbohydrates ingested with food (amylases).
Aloe vera also contains a total of 20 amino acids, including 7 essential amino acids, and an extensive list of vitamins, such as vitamins A, B1, B2, B6, B12, C, E, folic acid and niacin. Some have fantastic properties for the skin, such as protecting it from free radicals (vitamin E) or helping to heal wounds (vitamin C).
Minerals and trace elements important for the health (calcium, potassium, magnesium, sodium and iron) complete the formula, along with fatty acids, which have an anti-inflammatory effect. These are responsible for Aloe's positive effect on burns, skin wounds and inflammatory processes in the body.
All these properties of the composition of Aloe vera give it its moisturising, regenerating, nourishing, healing, anti-bacterial and soothing effect. What do you use it for?