Beware of hot baths and showers!
The thought of sinking into a nice hot bath during the cold months is tempting, but are they really as good for you as you think? Although the hot water may feel amazing, the answer is NO.
Water above 37 degrees can harm your skin by damaging the protective barrier. When subjected to high temperatures, the skin loses moisture, which can lead to irritation, dermatitis and even an increased risk of wrinkles in the long run. It can also cause dryness and lead to spider veins and redness due to its vasodilator effect.
It's true, after reading this, something as tempting as a hot bath before bed can lose its appeal. However, at Atlantia, we believe it's best to find a middle ground. So, although hot baths and showers might damage your skin, as long as you don't have them too often, and maybe just now and then when you really feel like it, you can still enjoy them!
Here are 3 tips to help your skin recover after a hot bath or shower:
Use natural soaps or baths salts
Here at Atlantia, we recommend using our Aloe vera Shower Gel, which respects the skin's pH level. Our Aloe vera Shower Gel formula nourishes, repairs and provides extra softness to the skin. Formulated with avocado oil and glycoside, it has extra skin smoothing properties, as well as a moisturising and regenerating action. It's ideal for dry and sensitive skin, and the powerful nourishing and regenerating properties of Aloe vera protect while providing greater elasticity and softness. So, if you fancy a hot bath, this could be a great product to prevent dryness.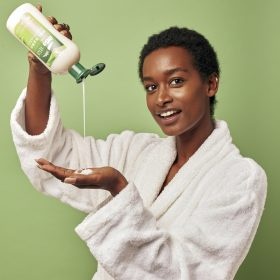 Use pure aloe vera gel as a face and body serum
Our Pure Aloe Vera Gel is made from pure juice extracted directly from the leaves of the organically grown Aloe vera plant, before being processed and cold stabilised to ensure the optimal preservation of its active ingredients. It doesn't contain powdered or concentrated Aloe.
This product provides total skin care, as it's highly hydrating, regenerating, and soothing.
Pure Aloe Vera Gel helps delay the effects of ageing, repair damaged skin, and is very soothing for burns or irritation. So, if you use it as a serum after a hot bath or shower, it will soothe any redness and regenerate your skin.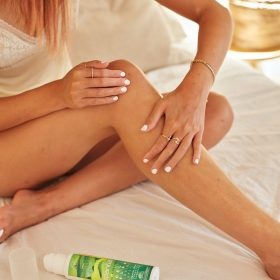 Moisturise your skin with superdefense triple action
To finish, apply Superdefense Triple Action moisturiser after a hot bath for a soft and highly nourishing effect on your skin.
Superdefense soothes and improves the condition of the skin and has a triple action for daily facial and body care. It contains pure Aloe vera, which strengthens the skin's natural defence systems and has regenerating, soothing and antibacterial properties. It also has emollient and moisturising shea butter, which deeply nourishes and protects the skin, and avocado oil, an effective antioxidant rich in nourishing fatty acids and vitamin E that protects the skin from damage caused by free radicals.
Remember: One hot bath a year won't do you any harm, especially if you use Aloe vera.
So now you can go and enjoy a nice hot soak!